Vegetation Management
We work year-round to take care of issues before they're a problem.
Cobb EMC is dedicated to providing our members with safe and reliable electric service. Trees and brush can be conductors of electricity, and trimming is necessary to avoid outages and safety hazards for our crews and the general public.
Frequently Asked Questions:
As part of the ongoing maintenance of our electric distribution system, Cobb EMC crews must trim – and in some cases remove – trees and vegetation that can interfere with the power lines on a planned cycle. 
Cobb EMC will consider removal of a tree within 15 feet of primary wire (runs along the road). Once Cobb EMC is notified of trees growing near service wire (runs into the house), they will be removed if they are endangering the line, dead, trunks are rubbing the wire or if they are in a weakened condition.
Cobb EMC will trim the trees back 15 feet on each side from the center of a primary pole. If a tree on your property meets the guidelines for removal, mark it clearly with ribbon, tape or paint and be sure to move any objects that could be struck by the tree when it is cut down. Other circumstances within these guidelines may result in exceptions and will be at the discretion of a Cobb EMC representative.
Right-of-way and easement agreements allow Cobb EMC to access private property in order to maintain our distribution system. This work helps us access power lines for maintenance and repairs, but it also helps us improve the reliability of your electric service.
Ice can weigh branches down until they are in danger of touching lines. Thunderstorms or heavy rains can cause tree limbs (or a tree itself) to fall on overhead lines, taking out the power to your neighborhood. This can also cause energized lines to fall to the ground, posing a safety hazard to anyone nearby.
We can't prevent bad weather, but we can reduce outages caused by falling limbs and trees. Our team works year-round to maintain the right-of-way. How much they trim depends on your tree. Additionally, Cobb EMC contracts qualified, independent contractors to apply herbicide mixtures to our right-of-way to prevent regrowth after trees are removed. These efforts allow us to maintain our electric service reliability.
For information about Georgia's licensing requirements for herbicide application, please visit www.agr.georgia.gov. To learn more about Cobb EMC's herbicide application, email us or call 770-429-3413.
As crews remove trimmed limbs and branches, they are chipped into wood chips. We provide these wood chips to our members at their request. If you'd like to request wood chips, use this form. 
Before you begin any digging project, call Georgia 811 to have underground utilities marked for free.
Don't plant shrubs or hedges at the base of power poles. It makes it harder for our crews to work on power lines if you have an outage.
If you live in a newer neighborhood that has underground power lines, when planting trees or shrubs, maintain 10 feet of clearance from the front of the transformer and three feet on all other sides to allow Cobb EMC access. Maintaining clearance also keeps roots from interfering with underground lines running to the transformer.
If you're planning landscaping projects, remember to leave enough room between new plants and overhead power lines. You don't have to give up your dream of a beautiful, shaded yard. You simply need to choose the right tree for the right place, planning for the mature height of a tree.
Never plant trees directly under power lines. Short trees should be planted at least 25 feet away from power lines, while medium-sized trees should be planted at least 40 feet away from power lines. Keep in mind: Branches near power lines can be extremely dangerous.
If your yard has trees or branches growing into the power lines, please do not attempt to trim them yourself. Contact Cobb EMC at 770-429-2100, and we'll send crews.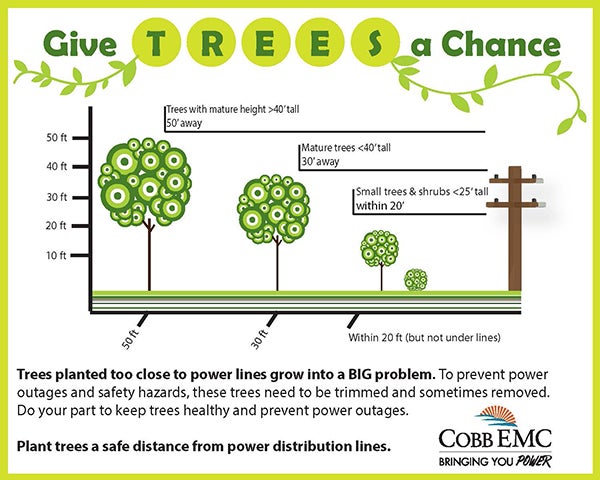 A tree that is outside of Cobb EMC's maintenance guidelines will only be cut down, or dropped, if it is dead and endangering power lines.
Do not go near or touch a tree that is touching a power line. If a tree is too close to a power line, call us to inspect the tree's clearance. If the tree is outside of Cobb EMC's maintenance guidelines, we'll create a safe environment for you to trim.
If you see an electrical hazard, stay clear and call 911.
Always assume power lines are energized. Remember, if a power line is touching a tree, the tree itself can be energized. Stay as far back from a fallen line as possible.
If you see that your trees or branches are close to your power lines and could pose a threat, notify Cobb EMC at 770-429-2100. Please also call us if you see a tree fall into a power line or if you spot another hazardous condition. If the power line starts an electrical fire, contact your local fire department and stay away from the area.